Road Information APP Avoid Animal Roadkill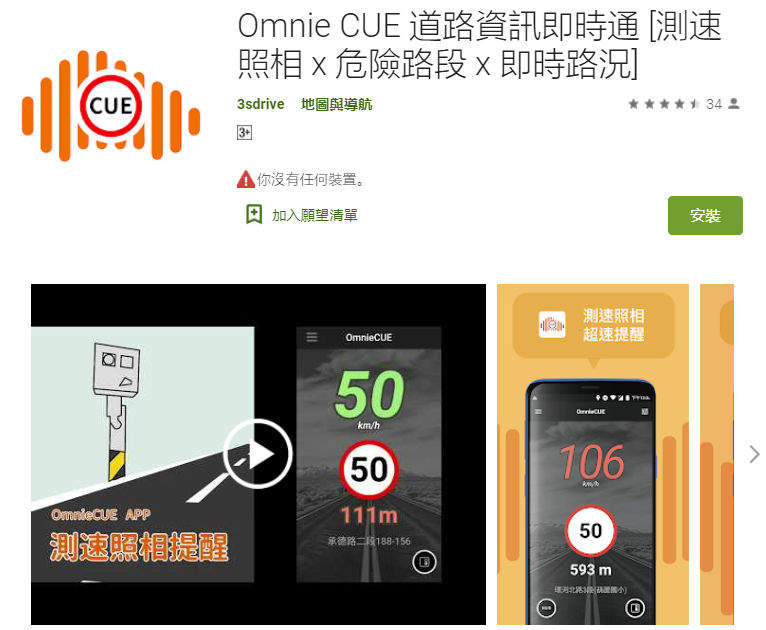 (Source: Google Play, TANews)
Cooperated with Garage+, Taiwan Roadkill Observation Network (TRON) announced the 'Omnie CUE Road Information' App with roadkill hotspots reminder. It is a road information voice reminder app for car drivers, using data from Government Open Data platform and Public Transport data eXchange (PTX) platform. It provides speed-measuring spots, accident blackspots, instant road information and animal roadkill hot spots reminder which let the driver notice earlier that there are animals in front, slow down the speed as soon as possible, in order to avoid roadkill.
'Omnie CUE Road Information' was designed by three principle: First, it contains 118 roadkill hotspots around Taiwan; Second, it reminds the driver about area with large number roadkill; Third, it contains potential roadkill area. In addition to roadkill reminder, the App contains reminders of school district, speed-measuring and natural disaster areas as well.
Garage+ pointed out that this speed-measuring alert App was originally designed to add functions related to the environment and conservation. However, the issue of Leopard Cat was hot in those days, so they found the TRON for collaboration. Originally, Garage+ only intended to make a reminder of the hot spot of Leopard Cat roadkill. However, after the instructions by TRON and further research, they had a deeper understanding of the roadkill issue. Therefore, they included more animals roadkill hot spots into the App, hopping to protect more animals.
Te-en Lin, the researcher of the Endemic Species Research Institute, pointed out that 'Omnie CUE Road Information' is a good start.At present, TRON is working with the navigation software NaviKing, which have 500,000 users, to build a map included roadkill hotspots. The map is expected to be completed in November, and at the latest in January 2020, it will be open for download or update. In the future, TRON will further seek cooperation from car manufacturers, and hope to build the roadkill hotspot in car's navigation map. TRON has also proposed with Google, hoping to build roadkill hotspots in Google Maps. If Google consents, in the future, when using Google Map navigation function, there will be roadkill hotspots voice reminder, guaranteeing the safety of animals and people.
Source: