InnoServe Awards: Innovating Open Data Application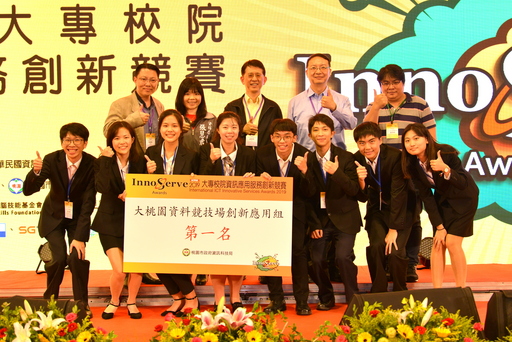 (Source: CNA)
After the fierce preliminary round, the finals of the 24th International ICT Innovative Services Awards (InnoServe Awards) was held on November 2 at the National Taiwan University Stadium. Among them, 8 student teams from the FinTech Center of the National Chiao Tung University, led by Huang Sihao, the director of the center, they stood out from the 808 team and won 4 sub-champions. They won 10 Awards in the end, which is an outstanding performance.
The 24th InnoServe Awards was co-sponsored by the Industrial Development Bureau of the Ministry of Economic Affairs, the Department of Information and Technology Education of the Ministry of Education, and the Chinese Society of Information Management. Covering emerging areas such as smart manufacturing, information security, the Internet of Things (IoT), Open Data, and cloud systems, etc., 808 teams from 94 colleges competed for 162 awards and the prize of 2.46 million in total.
The "Life O2O" team participating in the industry-academia cooperation case of the Pervasive Artificial Intelligence Research Labs (PAIR) of the Ministry of Science and Technology, combined AI and AR technologies, applied the concept of O2O virtual reality integration to design an online clothing shopping app that integrates physical channels. They won the first place in the information application group and the second place in the Open Data creative application development group.
The "Old Man" team focused on the care of the elderly and creates an APP for elderly people. It encourages the elderly to go outdoors and participate in activities. It also provides services such as health consultation and consultation for the elderly through health experts. The team won the first place in the Taoyuan Metro Area innovation application group and the second place in the data application group, showing their creativity and operational energy.
Source:
24th International ICT Innovative Services Awards (InnoServe Awards) Website