Find Masks with the Assistance of Open Data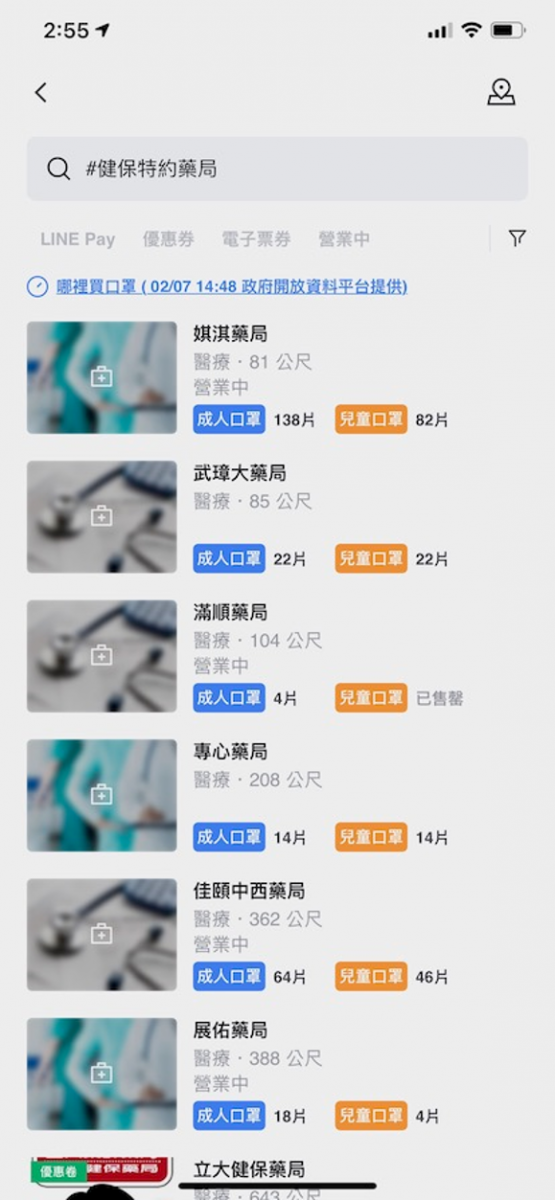 (Source: TechNews)
Masks are sold under the real-name system on the morning of February 6th. Almost every pharmacy has a long line of buyers. Open Data released by the Government's Open Data Platform has allowed mobile service providers such as LINE, JKOS, and many other developers to provide information such as the location and quantity of masks for sale, which is convenient for people to query.
LINE SPOT by LINE is a geographic yellow page service that can easily find nearby stores. Due to the characteristics of geographic information and the use of open data released by the Government's Open Data Platform, it has helped LINE users to acquire the information of locations and numbers of mask sales. In addition, through the LINE account "Disease Keeper", which was established in collaboration with the Centers for Disease Control and the DeepQ team of HTC, people can not only receive the latest news from the epidemic command center, but also inquire places and numbers that masks are sold.
Not only that, the mobile payment app "JKOPAY" also added a "Mask Map" function on the 7th to display the mask stock of various pharmacies with a map interface. The Health Insurance Administration's "National Health Insurance Information" app can be linked to the mask supply and demand information platform to query.
Till February 12, 83 application platforms (including 21 apps, 32 map applications, 14 Line applications, 3 Chatbot applications, 7 APP applications, 5 voice assistant applications, and 1 other application) were made and the number and type of development continues to increase. As of February 12, more than 10 million masks have been sold.
Source:
TechNews
http://technews.tw/2020/02/07/name-based-rationing-system-for-face-masks-launched-in-taiwan/
http://technews.tw/2020/02/08/behind-the-scenes-of-mask-real-name-system/