MOST Releases Supercomputer Computing Power Inviting Citizens to Fight COVID-19 with Open Data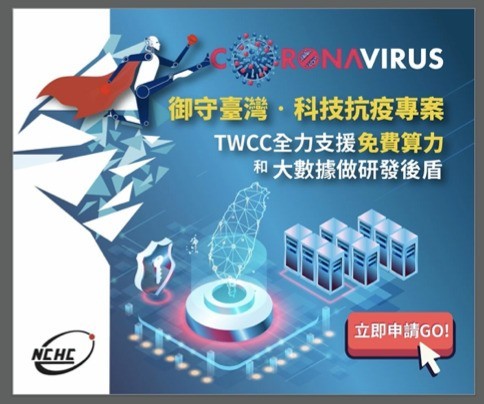 (Source: Ministry of Science and Technology)
The epidemic of COVID-19 has a severe impact on society and life.The Ministry of Science and Technology (MOST) immediately released the computing power of the international class supercomputer "Taiwan AI Cloud", the storage and virtual hosting services and the big data platform of the National Center for High-performance Computing (NCHC) of the National Applied Research Laboratories (NARLabs) to the public to fight the epidemic.
NCHC welcomes proposals from all field of the society. In addition to anti-epidemic related issues, such as viral gene evolution, protein analysis, data exploration, image recognition, etc., it may also include solving the inconvenience of people's lives, helping enterprises or schools operate stably, revitalizing the economy, etc., such as mask maps, alcohol maps, material information and online teaching, etc. After passing the review, people can use the supercomputer computing related resources provided by the NCHC.
MOST pointed out that the data collection platform has collected more than 50,000 data collections, covering the fields of government governance, scientific research, voice, medical treatment and information security. In response to the epidemic, COVID-19 characteristics related data sets has been collected and provided, including global-released pneumonia images, medical papers, details of the remaining quantity of masks of health insurance agencies (including geographic value-added), global diagnostic statistics data sets, etc. All of these are provided for access and value-adding for like-minded partners, working together to protect Taiwan with technology.
The application of "Fight Epidemic with Technology" project is open till June 30, and the period may be extended if appropriate. Applications that have been reviewed and approved by the Project Planning Committee can be opened within one week from the date of application.
Source:
National Center for High-performance Computing